The Big Lord Dunsany Re-Read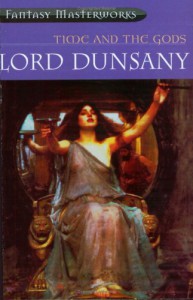 I don't actually know how big it will be, because so far I have me and anyone else who wants to join in. Which means just me.
While prepping for the lecture I gave at the Big Read I started thinking about all of the great Lord Dunsany short stories I've enjoyed over the years and realized that there were a couple of collections I'd still only sampled from. I decided it was time to revisit that lyrical master of the fantastic.
I hope some of you will join in. For the next three or four Fridays I'll be reading through A Dreamer's Tales, and for the first week I'll be reading:
"Poltarnees, Beholder of the Ocean"
"Blagdaross"
"The Madness of Andelsprutz"
"Where the Tides Ebb and Flow"
"Bethmoora"
If you don't have a copy and are short on cash, you can join the read-along via project Gutenberg, where you can access this book for free, via this link to A Dreamer's Tales.
Lord Dunsany's stories are typically quite short — those five stories take up a little over 30 pages total, so I'm sure you can fit it in over the course of a week.
I'm going to use a very simple rating system. One star if it's pretty cool and two stars if it's outstanding, and I'll probably add a few comments about my reaction to each one as well. Hope to see you here, and I hope you'll join in. Once we're through with the book perhaps we can give an overall summation, and if we're still curious, continue on. I'm saving his first book for last if so, because I recall it being the most challenging to get involved with.