Awesome Stuff that Isn't Conan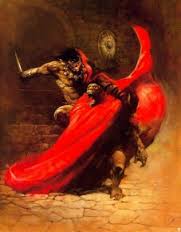 Alas, a man-eating ape in a cape absconded with our review this week. Next week we'll be ready to go with "Rogues in the House," by Crom.
In the meantime, feast your eyes on this grand article I wrote about the awesomeness that is the new Kickstarter for the Savage Worlds Rippers supplement. Victorian horror. Daring deeds. Things man was not meant to know. It looks pretty awesome, and I've signed on.
Also, here are three more links to all the places I've been on my blog tour.
1. I dropped by On Starships and Dragonwings Monday to answer a few frequent questions about my work.
2. Over at Civilian Reader I talked about some of my inspirations, particularly Leigh Brackett.
3. Bryan Thomas Schmidt invited me over to talk about my writing process.