Shandakor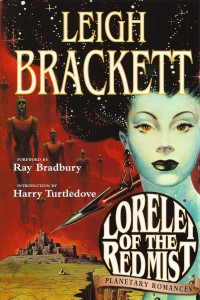 I rose bleary a little too early this morning and read the sad and somber story of "The Last Days of Shandakor" by the incomparable Leigh Brackett. Shortly Bill Ward and Fletcher Vrendenburgh and I will be discussing it on the site, so if you have a copy of the tale I hope you'll join us. It's found in several Brackett collections, among them the nearly perfect "best-of" paperback Sea-Kings of Mars and the absurdly affordable Martian Quest e-book.
I say nearly perfect because A.) It contains NEARLY all of my very favorite Brackett short stories. I'd take out one or two and replace them with others, but it's a great one-stop if you've liked Brackett and want to get a better sense of her before plunging into buying the expensive Haffner Press hardbacks. I own them, but I might not have if I hadn't been familiar with this volume already.
B.) The darned thing has irritating typographical errors, the kind that crop up when the original  manuscripts have been scanned and then not proofread carefully enough.
As for Martian Quest, from Baen, it's part of a series of e-book reprints that gather almost all of Brackett's speculative fiction. If you're a fan it will save you having to haunt old bookstores the way I've done to pick up battered paperbacks. Although if you're like me you might still prefer battered paperbacks to electronic copies.
And if you love this stuff as much as I do, you'll probably want the Haffner Press volumes that collect ALL her speculative fiction between beautiful covers.
Anyway, Bill and Fletcher and I will be putting the article together over the course of the week and should have it ready for discussion by next week.