Flamehair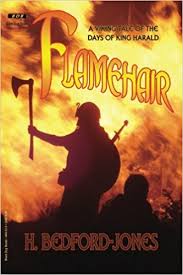 For years now I've been hearing about the adventure fiction of H. Bedford-Jones, a pulp historical writer famed as being one of those guys who wrote an astonishing amount of prose. Some people love him. Until now, though, everything I've read by the guy has been… competent, and I figured maybe that's what you'd get out of a guy who mass produced his fiction — high competence but maybe not a great deal of characterization or sophisticated plotting, maybe a guy who recycles plots, or who doesn't really revise much.
But after talking with Tom Roberts of Black Dog Books at Windy City, he reminded me again of that H. Bedford Jones book he'd given me a few years back, and I pulled it off the shelf — and man, does it start with a bang. It's far and away the best thing by the writer I've ever read. Will it hold up as I get deeper into the book? I dunno. Are there other good stories by H. Bedford Jones? Maybe so. I wonder who's done the digging through his immense catalog to discover which by him are the very best?
Any of you out there Bedford-Jones fans? I'd love to hear if there are other fine tales out there by him.
And here's a link if you want to pick up a copy and read along with me.