Howard's GenCon Schedule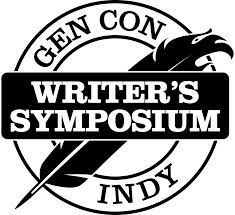 I can't believe GenCon is right around the corner. It seems like it was only six months, at most, since I was last at Indy for the largest gaming event in the world, but, no, it's been almost a year. I hope I'll see some of you there.
I'll be at the Paizo booth in the Great Hall every day, and I'll be participating in the Writer's Symposium on a number of panels. If you're a writer, or curious about the industry, or a reader wanting to get the chance to ask questions of favorite authors, it's a wonderful corner of the convention to attend. Marc Tassin, the Exalted Leader of the Symposium, organizes a good show. Under his command the Symposium has continued to expand and draw interesting authors yet continue to maintain a pleasant atmosphere.
This year, for the first time, I'll be offering critiques Sunday morning. You'll have to join the Writer's Symposium to learn what kind of story length the critique groups take.
Here's my schedule. I'll be available for chatting just about any time in between, although if you catch me Saturday, I'll probably be running from one place to another. It's a busy day.
Thursday
Noon – 1:00 Paizo author's table
1:00 – 2:00 (Room 245): Writer's Craft: Editing Your Work
Susan J. Morris, Erin M. Evans, James L. Sutter, Howard Andrew Jones.
3:00 – 4:00 Paizo author's table
Friday
Noon – 1:00 Paizo author's table
3:00 – 4:00 Paizo author's table
Saturday
Noon – 1:00 Paizo author's table
1:00 – 2:00 (Room 244) Worldbuilding: Nationbuilding
John Helfers, Aaron Rosenberg, Michael J. Sullivan, Scott Lynch, Howard Andrew Jones
2:00: – 3:00 (Room 244) Worldbuilding: Sentient Non-Humans
Kelly Swails, Richard Lee Byers, Michael J. Sullivan, Howard Andrew Jones, Scott Lynch
3:00 – 4:00 Paizo author's table
7:00 – 8:00 (Room 244) Worldbuilding: Monsters & Other Horrors 244
John Helfers, Stephen Blackmoore, Howard Andrew Jones, Steven S. Long
Sunday
9:00 – 11:00 (Room 245) Read and Critique
Donald J. Bingle, Howard Andrew Jones, Jason Schmetzer
Noon – 1:00 Paizo author's table