GenCon 2013 Part 4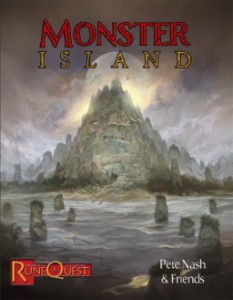 I thought I'd finish my write up of GenCon with a sort of highlights reel of my remaining favorite moments, in no particular order of preference until the final three.
First, while I'm not much involved in Black Gate anymore, I do still occasionally review game products, and it was a pleasure to get handed a few review copies of some great looking books. I'll be covering them at Black Gate before too long, but I can say right now that I'm most interested by Pete Nash's Monster Island, a sandbox setting compatible with Runequest, Sarah Newton's Monsters & Magic, from Mindjammer Press, which is a way to convert old school RPGs for more modern, FATE style play, and Brian England's The Demolished Ones, a FATE compatible mini mystery campaign  in what looks like Victorian times. I have a handful of others as well, and each will be getting write-ups in the near future.
Second, the Writer's Symposium had two get togethers after the opening dinner, a game night and a freewheeling meet & greet on Saturday. While there on Saturday I spoke at last with the talented Ari Marmell and heard his elevator pitch for a nifty novel idea I wish I could steal. I spoke for a little while with the gifted Mary Robinette Kowal, who has the same sharp intellect, natural poise and easy charm that you'd expect from reading her blog and fiction.
I did get to meet or reconnect with a number of other writers at the Saturday Symposium get-together, among them Mike Stackpole, Jerry Gordon, Geoffrey Girard, Jaym Gates, David Wohlreich, and Miranda Horner and probably more whose names I unfortunately can't recall! I had a long, fantastic conversation with Maurice Broaddus and Rodney Carlstrom about the business of writing, classic sword-and-sorcery, Charles Saunders' Imaro, and a host of other topics besides. I'd never met either man before the con and we walked away not just acquaintances, but friends. Finally, I had a blast talking with Scott Lynch and John Scalzi about a host of topics. Those two have such razor-sharp wit that I often feel like I'm sprinting to keep up, but  this time I guess I was relaxed enough with them that it resulted in me feeling like I fit right in.
Third, in and around the panels I had some wonderful interactions with two generous, gracious, and talented men, Paul Genesse and Matt Forbeck, with whom I shared a reading. I'm looking forward to reading more work by both gentleman.
Fourth, my wife and daughter drove up to wander through the Hall of Treasures and then we walked for dinner. As it happened, there was a motorcycle convention at Indy at the same time as GenCon. It was more of a bug than a feature, especially due to the noise and crowds that evening (although I have to admit some of the bikes were gorgeous). We ended up at Fogo de Chao, a Brazillian restaurant, and exceeded our red meat intake for the month. For the next several months, really. It was so very, very good that I actually laughed with joy. I've never been particularly big fan of steak or burgers, but I like them every now and then. Fogo de Chao has so completely spoiled me that I may never eat red meat again — unless I'm at Fogo de Chao. My daughter, who's in her early teens, was just as impressed as the two of us, and discussed the meal like an adult. It was fascinating and wonderful to get the sense of the person she is growing to be.
Fifth, Sunday morning I met Frazer Ronald for a light breakfast at the Starbuck's at the Omni Severin. Frazer and I have known each other for a long, long while, most recently as guest and host at his Accidental Survivors blog cast. This, though, was our first chance to talk at any length in person, and given our shared interest in history and sword-and-sorcery, it was long overdue. Dave Gross joined us about half way through and we began to trade advice about overlooked but excellent cinema. Well, mostly I listened and asked questions, because those two know their way around the genres better than I.
As cool as all of these things were (along with the tales I've already told and the Writer's Symposium, which I'll soon be discussing at Black Gate), probably my top three are Friday night dinner, our Thursday night game, and any number of quiet chats with my room mates Lou and Scott over the course of the convention. Happy as I was to be heading home to my family, I was quite sad thinking that it would probably be a year or more before I saw either of them in person again.
Friday Lou and Scott and I joined Joel Shepherd for dinner off site at the Bosphorus cafe. It was a little bit of a drive, one made a bit confusing (despite my map) by several streets closed down for the aforementioned motorcycle convention. The food there at the Turkish restaurant was fabulous, though, and the chance to unwind with my friends in a quiet place was one of the best moments of the con. I'd been hanging out with Joel by that point for a while, but it was the first time I'd gotten a true sense of what a thoughtful, considered man he is. Lou tells me that Joel writes amazing action scenes that are coupled with complex but engaging characters and plots. That would have had me interested right there, but seeing as how he's also become a friend of mine, Joel's advanced pretty high up my "to be read" pile.
The absolutely best moment, though, was gaming on Thursday night. On the other side of the table were Lou Anders, Howard Tayler (a fine and engaging fellow I met for the first time that Thursday), Scott Lynch, Dave Gross, and Saladin Ahmed.  I was running a Viking adventure involving a vengeful witch, a (mostly) abandoned steading, and some wandering undead. Lou was playing an impatient dwarf, Scott a practical halfling, Saladin a heroic leader, Dave a fey-touched bard, and Howard a skilled woodsman (Tayler, I mean). This account is already too long, and recounting game sessions rarely conveys the real amount of fun that games have, so I'll just say that it was a blast.
Well, there you have it. If you've stuck with me through all of these GenCon wrap-up messages it must be because the convention sounds like fun. Trust me, it is. It's hard to do it justice! There were many more things I wanted to see and do that I never found time for (among them sitting down to play a FATE powered role-playing-game) and there are so many more tales I could tell (like a brief visit with the talented Jim Pavalec) but I think I'll just sign off, and hope to see you next year. My blog will return to regularly scheduled nonsense with occasional writing advice Tuesday.