The Perfect Pocket Writing Notebook: Review 4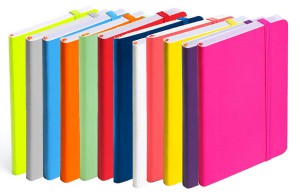 This week I'm looking at the Poppin Soft Cover notebook. In previous reviews I've simply mentioned that a product is widely available without providing a link because I'm pretty sure you all know how the search function works. (If you've questions about my criteria, that preceding link should take you to a page than answers them.)
In the case of Poppin, though, the notebook is currently only available through the manufacturer, so you'll probably have to pay shipping costs. And that's okay, because even with shipping the Poppin is a bargain. Here's the link.
Price: $6.00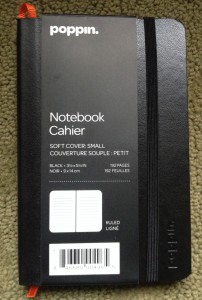 Currently the pocket Poppin notebook is only available as a softcover, and comes in a raft of colors, as shown above.
Other manufacturers reserve the term "Cahier" to refer to a slim, staple-bound notebook. The Poppin has sewn bindings, however, like all other pocket notebooks on my "best" list. I hadn't seen the pocket model reviewed anywhere else, so I decided to road test its durability myself. It's holding up very well. Use has given mine a few cover dings, which may be visible in the photos.
The soft cover means that it's quite flexible. It comes with a dedicated spot on the inside front cover for name and contact information.
The cover's surviving me taking it in and out of my pocket multiple times a day, and so are the pages. And speaking of pages, the Poppin softcover has a really striking format that makes it unique among all of its competitors.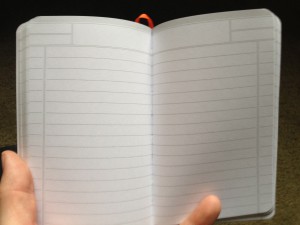 I like that line arrangement a lot. I hope its designer got a pat on the back, and hopefully a raise. There's a dedicated space for identifying what's on the page at the top, or numbering items along the side, or creating a table of contents, something I find useful once I've filled the notebook and am later searching through it.  All in all the formatting is just a great organizational tool and one of this model's strong points. The only room for improvement I could see would be the addition of page numbers like its competitor, the Leuchtturm1917, although that might require expense that would lose that attractive price point.
With its durability, good manufacture, low price point, flexibility, and formatting, the Poppin makes for an excellent writing notebook. Yes, I took it on a road test because I wanted to be able to report upon its durability. But I also wanted to get to work in it as soon as possible.