The Perfect Pocket Writing Notebook: Review 3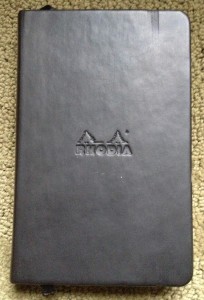 This week I'm reviewing the Rhodia Web Notebook. Although its referred to by some as the "webbie" you'll never hear me say that aloud. For previous pocket writing notebook reviews or my criteria, click here.
Pricing: $15.25 and up
The Rhodia Web Notebook is on the high end of pocket notebooks, which means that once shipping is added in it's pretty much priced out of my criteria (and yes, there are some pocket notebooks that are even more expensive).
Although sometimes expensive products aren't obviously superior to their competitors in any way, the Web Notebook clearly has high production values, which may explain its devoted legion of followers.
The pocket Web Notebook is hardback and comes in basic black and terrifying orange and is allegedly manufactured in other colors besides. It's widely available, as a search for Rhodia Web Notebook, Pocket (or A6) will show you, with prices varying by site.
What you won't be able to tell from any images is just how pleasant the cover feels. Though hardback, it's slightly flexible and has a little give to it besides, providing a nice tactile sensation when you grip it. The binding isn't just solid, it's extremely well put together.
Inside, the pages have a warm, creamy coloration and are allegedly wonderful for fountain pens, which is another reason for the Rhodia's higher expense (I don't use fountain pens, so I don't know, but a lot of fountain pen users gush about the Rhodia Web Notebook). I'm a plain old ballpoint pen user myself, yet even I can see the attraction of the paper.
It has no real frills other than its outstanding production values. It does come emblazoned with the company logo smack dab in the middle of the cover, which I find a little much, and the cover retains marks from the closure when you remove the elastic band, which some might find off-putting (I didn't — marks and scuffs add character). I suppose I should mention that I find its lines just a little light, something my teenaged daughter remarked upon as a problem. On the other hand, it might be seen as a feature because the lines are dark enough to use as a guideline but don't stand out starkly.
I wish there was a little extra space up at the top, but some people prefer as many lines as possible. I will point out that the lines are well spaced so that there's no unusable ones, as you'll find in 2015 era Moleskines. It's durable and is, simply, one of the best made pocket notebooks on the market. In this instance, one old adage is certainly true: you definitely get what you pay for.