Return to The Desert of Souls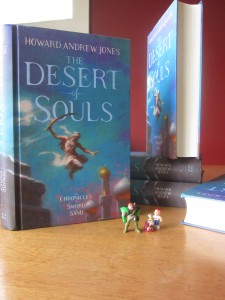 Every once in a while nice surprises float up from the 'net. I just read an enthusiastic new review of The Desert of Souls from a mystery review site, and there's discussion in the comments page wondering if there are to be more stories about Dabir and Asim.
Well… Sooner or later there probably will be. Certainly my wife would love me to write more, because she likes Dabir and Asim more than any other characters I've ever used, even the ones I'm writing about now. At the least, I'll one day write a third novel and resolve what happens between Dabir and the love of his life, from whom he was separated at the end of the first book. Maybe I'll launch it as a Kickstarter or something.
Alas, the first book didn't sell that well. The second, despite even stronger reviews, including a starred review from Publisher's Weekly (and I was SURE that would guarantee good things for the series!) sold even more poorly. You can gauge this by dashing over to Amazon and comparing the number of reviews for each book.
I've stayed busy since creating a replacement series and writing Pathfinder novels. I didn't PLAN on wandering in the wilderness for a while getting my act together, but that's kind of what happened. I thought I had taken the news in stride and moved on to create new things, but watching that series tank really took the wind out of my sails. I love those characters, I love the Arabian Nights, I love the era — I spent years immersing myself in the time and culture. I spent years creating the characters and finding the right voice. I thought I'd found my calling, but I discovered, much like Crane's man speaking to the universe, that the universe didn't really care.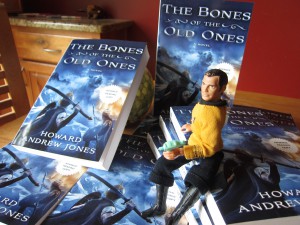 On the plus side, I got two hardback books published (and more, if you count the short story e-book). Many writers don't even get that chance, so I was lucky. And I'm very lucky to still be under contract for more. But then I've been fortunate with my book editors. Both Pete Wolverton from Thomas Dunne Books and James Sutter with the Pathfinder novel line are talented and supportive.
The long and the short is that I'll be writing new books for Pathfinder for a while to come (one's due out in Fall and one's coming out next Fall) and I hope to launch a new series through Thomas Dunne Books/St. Martin's soon. The novel's getting whipped back into shape since I stopped trying to write like anyone else and began writing like me again. And as for Dabir and Asim, when I get the chance I'll write an occasional short story (as I did for last year's Kaiju Rising anthology) and some day I'll probably write at least one more book. I can't see myself carrying out my original plan of drafting seven more Dabir and Asim novels unless the Kickstarter for the third and self-publishing turn out to be lucrative. My guess is that I'd have to have a wider following for that to happen.
As to why they didn't succeed, I just can't tell you. I wish I knew. I could tell you how often I paced and gnashed my teeth and all that, but that was distracting and pointless. I've finally let it go. Onward and upward.
Oh, and for that handful of you wondering when I might launch a Dabir and Asim Kickstarter, it's a ways down the road. I've got to revise a Pathfinder novel and write a couple of more books for my new series before there's any kind of hole in my schedule. Watch this space.