Hurricane Relief, Chance to Win Free Book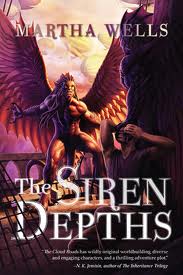 It sounds like a win/win to me, especially if you're a fantasy book lover who doesn't like to see people's lives disrupted or devastated by hurricanes. And if you're already a fan of writer Martha Wells, then count yourself lucky indeed.
Swing by Martha's site for the FULL rules, but here they are in a nutshell, stolen from her web site. I personally think this is a great idea, and if I had author copies of my next one yet, I would be jumping on the bandwagon. Anyway, take it away, Martha:
To enter the drawing for an autographed trade paperback copy of The Siren Depths, the third Books of the Raksura novel:
1) Make a donation to an organization for hurricane Sandy relief, such as the Red Cross, or any of the organizations listed at the bottom of this post by TimeOut New York, or here on this post by Forgotten New York, or one of the organizations doing relief for Sandy's damage in the Caribbean, like Global Giving. The Huffington Post also lists a bunch of organizations you can donate to, including some international ones.
2) The donation can be any amount, though a minimum of $5.00 would be nice. (This is on the honor system, but I will ask the winners to send me the e-receipt for their donation, with the address you want the book sent to, how you want it personalized, etc.)
3) To enter, make a comment on this post with the name of the organization you donated to. It would be good if you listed the amount, but if you really don't want to you don't have to.
4) On Wednesday morning I'll draw a minimum of five winners (more if we have a lot of entries) randomly and announce them.
5) Please spread the word!
For further details, visit Martha's site.
As for me, I have exciting news to reveal before the end of the week. Stay tuned!