Hammerhead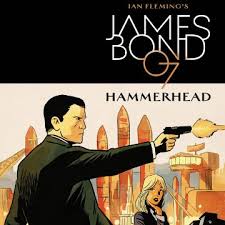 I exchanged gifts with my old friends Brad and Bruce this weekend, and one of the goodies I came home with was Hammerhead, a James Bond graphic novel from Dynamite.
I'd never heard of the publisher Dynamite before the two James Bond collections I've read, but I'm really impressed. The issues of the comic collected in this book were written by Andrew Diggle and illustrated by Luca Casalanguida, and they sure delivered the goods. Casalanguida has a striking, cinematic style that really helps evoke the sense you're watching a film. And Diggle's script was aces: Bond was clever, ruthless, and observant. Much like the first James Bond graphic novel I read last year, Vargr, I actually enjoyed the comic better than I have any number of Bond movies. So far the scripts are simply smarter.
Highly recommended. I look forward to reading more. As an added bonus, unlike a lot of the stuff I write about, this one's in print!