Rapiers Ride!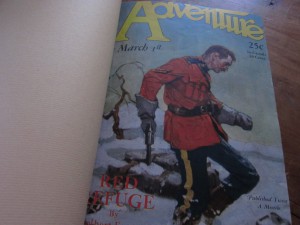 I'd intended to tell you about a nifty new sword-and-sorcery novel I read last week, but I'm away from home and short on time today and won't be able to give the book the time it deserves. Look for details next week.
Today I wanted to remark upon how enjoyable the pulps can be. I've mentioned the wonderful collection I bought off of pulp scholar Alfred Lybeck 15 years ago. There are 14 of these volumes in all, and until recently I've just been reading an occasional story. This year I started selecting volumes and reading them, slowly, straight through. They're more enjoyable that way, because Al knew how to pace a collection. A shame he never got to be a professional anthology editor.
The volume I selected this time has four stories of the Canadian mounties, along with a whole host of other tales. The first two Royal Canadian Mounted Police stories were entertaining, but it was the third story, set in the late 16th century, that really made me sit up and take notice. It was a swashbuckler with dynamic pacing, sudden turns, constant surprise, and great action scenes. And I'd never heard of the author! "J.J. des Ormeaux" certainly sounded like a pseudonym and it turns out it was; the real author was Forrest Rosaire, who seems to have spent most of his writing life crafting crime stories and an occasional western. Like many pulpists, he doesn't have too many books, and there are no collections of his short work. Alas!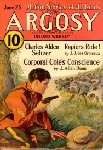 Will any of his other work be as good? Will he constantly use the same plot? I don't know, but I liked "Rapiers Ride!" well enough that I'll keep my eye out for his other stuff, and I'll certainly treasure this story. What a nice little surprise. I liken it to finding a snappy little pop gem from the '60s that never gets radio play, hidden on some old mix-tape you found in the basement… Sure, maybe some of its turns were a little predictable, and maybe it wasn't deep… but it was excellent adventure fiction, done right. And that is exceptionally hard to pull off. If you don't believe me, witness the dozens of dull or tepid adventure stories out there. Even in these "best-of" anthologies this one stands out.
For those of you with the interest or the ability to find Argosy magazines, the story appeared in the June 25th, 1932 issue.