Celebrating Leigh Brackett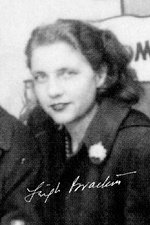 The 100th birthday of the late, great Leigh Brackett is coming up next Monday, and to celebrate, Bill Ward and I our doing a read-through of one of her great stories set on a Venus that never was.
Brackett was a phenomenal writer. She's been called the Queen of Space Opera, but I think a better-named crown was probably Queen of Planetary Adventure.
She wrote screenplays with Faulkner  AND mentored Ray Bradbury AND wrote the first draft of The Empire Strikes Back. She was writing about heroes who would have been comfortable plying the space lanes beside Han Solo and Malcolm Reynolds decades before those characters were ever conceived. Most importantly, though, she was simply an incredibly gifted adventure writer who wrote with fantastic atmosphere, wonderful pacing, and dynamic characters. She's one of my very favorite writers, and she's had a tremendous influence that (unfortunately) has often gone unsung.
We hope you'll join in our re-read. To make things extra simple, here's a link to an extremely affordable e-collection of her work from BAEN, The Swamps of Venus. From that collection Bill and I will be reading "The Moon that Vanished."
This e-book is only $4.00, and I have to say, if you're going to invest that, you probably ought to simply get Brackett's Solar System collection for $20.00 so you can read her even more (and justly) famed stories set on Mars. Bill and I are reading "The Moon that Vanished" because it's a great one that gets passed over because she has so many more stories set on Mars.
Anyway, hope to see you here, and I hope you'll trust my recommendation if you've never read Brackett.