GenCon 2018 Part 2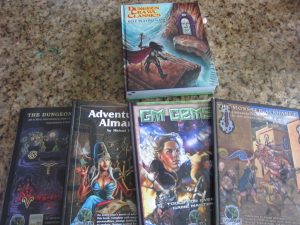 One way to think about my GenCon presence this year was as a wearer of 4 hats. Hat 1 was as a writer, meeting other writers, editors, and fans. Hat 2 was as a magazine editor and employee of Goodman Games. Hat 3 was as an editor for Perilous Worlds. And hat 4 was as a big fan of role-playing games, boardgames, and books.
I didn't get as much of a chance to wear hat 4 this year, in part because I was so busy (and gratefully so) wearing the other hats. But I was also constrained in part because of an endless basement remodel. With a lot of our budget still tied up in turning our cinder block storage area into a nice living space I just didn't feel right buying all the nifty things that interested me, which is why I made only two game purchases. One was a book of magic items for the Arcanis roleplaying game, which I mentioned yesterday, and the other was a nifty looking Viking solitaire game from Decision Games. Online here it's showing up as $14.00 but I'm almost positive I only spent $12.00 on it at the convention. Anyway, it looks like it's going to be fun.
That's not to say I didn't come home with some other treasures, and I'll be talking about them next time. This post, feast your eyes upon the wonders I acquired from working at the Goodman Games booth.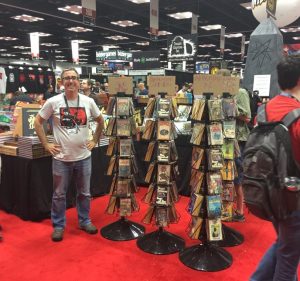 I love the artwork featured so prominently through the main Dungeon Crawl Classics game book and every other official product. By working at the booth, I even met some of the artists, as well as the writers! Working at the booth became one of the surprise highlights of the convention for me. Not only did I get a cool t-shirt and these great books, I got to know the Goodman Games creators, and the intelligent, articulate, and dedicated fans — not to mention some curious newcomers. The talented Stefan Poag gifted me with an autographed copy of his newest release, Mother of Toads! If you're not familiar with him, check out the link, or look at the special art feature in issue 2 of Tales From the Magician's Skull!
I also got to shake hands with the first Legion of the Skull member I saw in the wild. He was wearing his secret pin, you see, so I knew where his allegiance lay! I wish I'd had the presence of mind to get my picture with him.
I did, however, get a picture of Joseph over in a popular section of the Goodman Games booth — the Appendix N corner. Those old paperbacks were a constant draw for passers by. Many ancient treasures were acquired.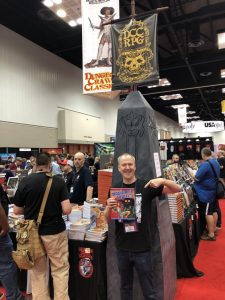 Joseph and I got to visit at length, and we discussed the future of Tales From the Magician's Skull, old pulps, art, and short fiction and generally just had a great time. We met for breakfast Friday morning joined by Michael Curtis, the man behind the Goodman Games Lankhmar line and the primary author of most of the fine products featured in the picture above.
A few weeks back I gassed on about great gamemaster resources, and there at the con I found four more, all of which Michael had a major, or solitary, hand in writing. They're fantastic stuff.
I had to leave Saturday evening, so I missed the big Goodman Games announcements that night, as well as the raffle Sunday afternoon. Joseph snapped a picture of me at the Goodman Games booth on Friday, holding up a copy of issue 2 (almost) hot off the printing press.
Next week I'll probably tackle the rest of the great things I got to be involved with in one more post.