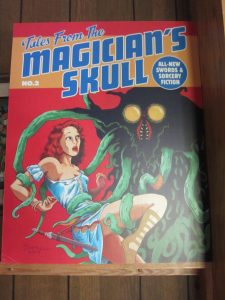 Wow, well that's pretty cool. The magazine Kickstarter made it's initial funding goal in less than half a day, which is fabulous. Thanks to all who joined in.
Now I hope you'll help me spread the word. I'm certain that there are more than the 200 something people who've currently pledged who like sword-and-sorcery and who would be thrilled to get a magazine like this into their hands. I honestly believe there are thousands of people who would dig what we're doing here, and I'd like to find them and sign them up so that this magazine will be a viable and ongoing concern.
If you're aware of message boards where like-minded sword-and-sorcery fans hang out, can you drop them a line and point them towards the Kickstarter? If there's a Cimmerian mead hall nearby, can you swing in and tell them about our mad dreams?