Undisclosed Location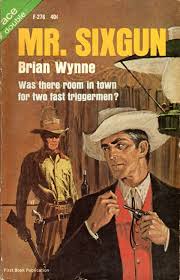 I'm writing from an undisclosed location, in the midst of a secret mission. Most of the assignment involves writing copiously every day, but I must also infiltrate fine dining establishments every evening and order the most excellent of their menu items. I'm occasionally in the company of a beautiful and wicked enchantress, but otherwise I'm ensconced in a haunted mansion, drafting prose.
As I was aware that there would be several transdimensional migrations during my journey here, I packed some old paperbacks to read. I like having short old novels to read during planar shifts. You can pack several little ones into your carry-ons, and if there are interruptions or you're just plain tired it's easier to keep track of short and therefore less convoluted plot lines.
First up was the first Brian Garfield western I've read, part of an Ace double, and incidentally the first of his six Jeremy Six novels, starring a laconic western marshall. And I have to say, after that first one I'll be reading the rest. I'd heard he was a good writer and it seems it's true. This was Mr. Sixgun. As with a lot of these old westerns and mysteries, don't be deceived by the art or cover advertising. Also, like a lot of writers active in the '60s and earlier, Garfield wrote under a bunch of pseudonyms, like the one shown here. He's best known for the Death Wish novel and its sequels that spawned the movies.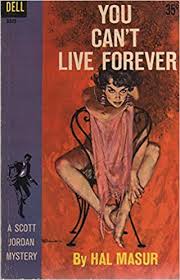 Now I'm part of the way into Harold Masur's third novel of '50s lawyer Scott Jordan, who as usual ends up in the middle of a cleverly plotted mystery. I wasn't sure how I'd like the adventures of a lawyer rather than a private eye, but Jordan is ethical and clever and has to do all kinds of smart investigative work. It's the third I've read and the third in the series. They all stand alone, but it's nice seeing the history develop between the continuing characters. I was remarking to Hocking the other day that Masur is better than you first might assume. I recounted how I'd thought I knew where book two was going until I realized that the author had been playing with me — he took the mystery in a different and perfectly reasonable direction.
I liked the first two so well I've found copies of most of the others. So far this one doesn't disappoint. For more info on Masur, check out this great stockpile of information about him at the Mystery File web site. I have to admit that a lot of author interviews bore me — they'e frequently self indulgent and self-important. But Masur comes off as a really cool guy.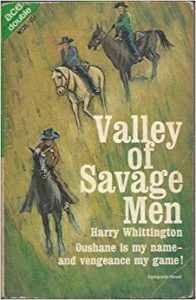 I also brought an Ace double with two Harry Whittington westerns in it. At some point on the site I think I mentioned that a lot of people like Whittington westerns but that I didn't understand the enthusiasm, and that I'd only found them good, not great. But that was before I discovered just how excellent he could be, especially in his earlier books. Knock your socks off terrific kind of excellent. Every few months I buy another of his old paperbacks — you see, most aren't reprinted, and while the majority aren't pricey through used book search services, purchasing more than a handful at a time adds up, especially since you rarely find a cache with any one bookseller so you have to pay shipping for every single novel. Anyway, the Ace double I brought has two by him that are reputedly among his best, The Valley of Savage Men and A Trap for Sam Dodge.
This cover is actually for an earlier Ace double, when they were still "flip books" (meaning that you flip it over and there's a cover on the back side, so that each short novel fills up half the book, starting from the flip side of the novel). The version I have simply has two novels in it, although it still claims to be an Ace double. The pictured version of the book has an early novel by Ben Elliot, Brother Badman, which is another pseudonym for the incomparable Ben Haas.
If you don't want to search www.addall.com for used books, you can pick up an inexpensive reprint that collects two great and one very good Whittington novel from Starkhouse via Barnes and Noble and other booksellers. Here's a good review about 'em.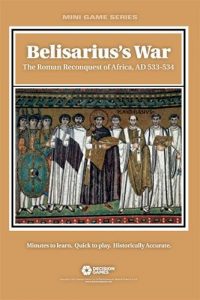 I also brought two mini-folio games along with me from Decision Games — Merrill's Marauders and Belisarius's War. (For more details about both you can, of course, visit BoardGameGeek.) Even as I packed I couldn't imagine having time to play them, but I thought I could at least look over the rules. And they're so tiny they were even lighter than packing just one more book…
In case you didn't know, the Tales from the Magician's Skull Kickstarter has just a little over a week left. This morning Joseph released a sneak peek of what membership in the skull's legion entails, so I hope you'll check that out. I'm working behind the scenes on getting issue 2 together, so I'm going to sign off and get to it, and then back to writing.