The Perfect Writing Notebook: Review 7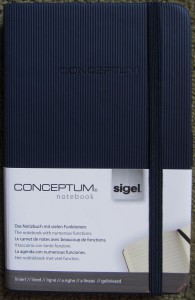 This is probably my last writing notebook review, mostly because I've found my favorite. If you see me at GenCon this week I'm liable to be carting it around, and I think I'll be carrying one by the same manufacturer for the next little while.
This week I'm taking a look at Sigel's Conceptium. If you're interested in seeing other reviews, or finding out what my judging criteria are (including what standard features I prefer) click here.
Pricing: $12.00 and up
Currently the best price I can find for this notebook is higher than what I paid (right now it's $14.89 at Amazon), and I hope that's not a sign of things to come. On the other hand, I like this pocket notebook well enough that I could see myself spending that every six months or so, because the right tool is worth a little extra (and it's still less than $20.00 with shipping, which is my cut-off point).
The Conceptium is available in a fairly wide palette of colors. It's just a little larger than the default "Moleskine imitation" size, which would usually knock it off of my list immediately, but I've been road testing this notebook for more than a month now and the size seems fine for my pockets. Any larger and it wouldn't fit in the 'ol blue jeans, but there's enough room so that I don't feel like the notebook is getting squeezed.
Why do I like this one so much? Well, it has most of the features I like from my other favorite models, and a little extra. Of course it has high paper quality so my ink pen doesn't bleed through, and a closing strap, but it also has page numbers, and a table of contents page so I can categorize the contents as I fill it. It has an inside back cover storage envelope for scraps of paper, and it has an inside front cover flap for the same, and a dedicated spot for writing your contact info (and, in back, for keeping your own business card).
I've found that I need more than one bookmark because I write in the front part of the notebook and have notes to myself in the back about more mundane things, so this model's two ribbons enable me to find my way to either section immediately.
I also love that the Conceptium has a pen loop sewn into the back cover so that I can keep a pen with the notebook at all times. You can just see that pen loop in the image of the inside front cover, on the middle right. It seems securely attached and hasn't shown any signs of coming free despite me sliding a pen in and out of it multiple times every day.
Lastly, speaking of mundane things, there are a number of perforated pages at the back of the Conceptium so that I can remove pages, say, if I've made a grocery list.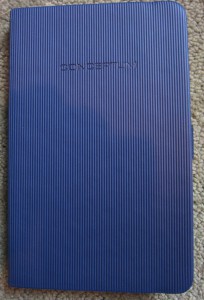 There are only a few things I don't like, and they're pretty minor issues. I'd prefer that there was more room at the very top of the page so I could create subject headers or simply use that top line to write (there's just enough space to pull it off). I don't like that grit tends to accumulate between the ridges on the cover, but then there are other models put out by Sigel that don't have those ridge lines, so I might try them. Other Sigel pocket notebooks are flexible rather than rigid, which is tempting, although the rigid models do give you a solid writing platform even if you don't have a table.
I suppose the thing I dislike the most is that I'm concerned the model won't be easily found in days to come, as it really isn't carried by too many distributors here in the states!
All-in-all, it's my favorite. I love the tactile feel of the Rhodia more than any other brand, and I love the retractable closing strap on the Palamino more than any other brand, and the Poppin has some great formatting features, but for the foreseeable future the Sigel Conceptium is my pocket writing notebook of choice.