The Perfect Pocket Writing Notebook: Review 6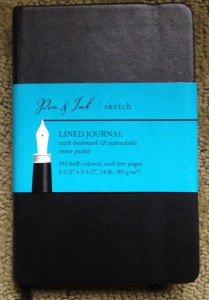 This week I'm taking a look at the Pen & Ink Lined Journal. If you're interested in seeing other reviews, or finding out what my judging criteria are (including what standard features I prefer) click here.
Pricing: $6.96 and up
Like my previous reviews of Picadilly and Poppin notebooks, the Pen & Ink is one of the least expensive brands on my "best of list." When I showed the initial notebooks I was going to review to my teenagers the Pen & Ink made it into the top three on both of their lists, over several more expensive brands (in case you're curious, they both liked the Poppin best).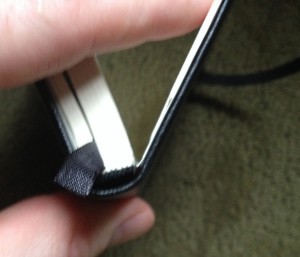 This little hardback is durable, lays flat, and is well bound. What you won't be able to tell from any pictures is that it has a similar feel to the Rhodia, with a little flex and a little give so that it's a tactile pleasure to hold. It doesn't feel quite as nice as the Rhodia, but as my children remarked, it doesn't have the brand name emblazoned on the cover either. In fairness to the Rhodia I should add — without meaning to knock the Pen & Ink, which is well made — that the Rhodia has better binding and paper. But then the Rhodia's usually at least three times as expensive as the Pen & Ink.
There are no frills apart from the standard — bookmark, elastic closure, inside back cover envelope — so that if you're wanting page numbers or even a dedicated place to write your name, you're out of luck. It does have a distinctive look to its lines which my kids and I both like. (If you prefer softer lines, this may not be the notebook for you.)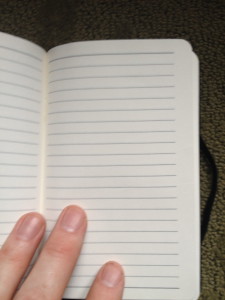 I like to create headers when I change subjects in my writing notebooks so things are easy to find later. Space for that is a little cramped in the Pen & Ink, but I honestly love the darkness of the lines.
Like the Rhodia and the Picadilly, the cover is easily marred by the elastic closure strap, something you may or may not like. (I don't mind.)
There's something  in total about this particular model that makes it especially inviting, a combination of its features that gives it a charm that's hard to articulate.
The Pen & Ink doesn't seem that widely available, unless you count Amazon, which means you can lay hands on it pretty readily. It only comes in black, and it's only available in hardcover. Read the fine print so you don't accidentally order a graphed or unlined version — the lined versions, though, do seem to have a blue cover wrap.