The Perfect Pocket Writing Notebook: Review 2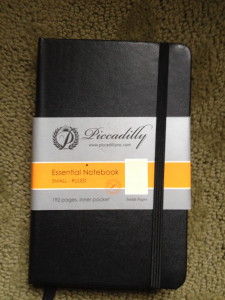 This week I'm reviewing the Picadilly Essential Notebook. If you want to take a closer look at my criteria (starting with the fact that all of the pocket notebooks on my "best of" list have to be approximately 3.5 by 5.5 inches) click here, and if you want to see all my posts on pocket writing notebooks, click here.
Pricing = $2.60 and up
The Picadilly may not have the features of some of my other "best of" notebooks, and it may not be as finely made as others, but it's made well enough, and at its low price it's an incredible bargain. Even if you have to pay a few dollars for shipping it's probably going to cost you less than any other one of my top notebooks prior to paying their shipping cost.
The Picadilly is no frills, but, really, what frills do you need? It lays flat. It has the standard features like a bookmark and a storage envelope built into the inside back cover, as well as an elastic closure strap. The lines are well spaced so that you can write all the way to the top, which many prefer. I personally like just a little room up top to create headers when I need them — to aid with finding information later — but your own mileage may vary.
It apparently comes in a softback as well as a hardback, but the softback, as of May 2015, isn't as easily available in my area. It's manufactured in other colors besides black, although right now they're a little harder to find, or are more expensive.
The hardback isn't as flexible as some competing brands, and the binding isn't quite as nice, and like several more expensive brands, the cover retains marks from the elastic closure (I've never thought it a big deal). But it's a solid, durable little notebook. If it were going head to head with other brands at a mid-range cost like $12 dollars, it would be outclassed. But at this low price it's a scrappy little contender.