My New Book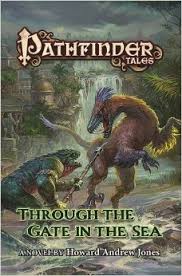 My friend Mick dropped me a line the other day asking for details on my new Pathfinder book, Through the Gate in the Sea. First off, I have to confess to me that it's strange to think of it as "new" because I turned it over in 2015, and addressed some editorial feedback last summer. It's felt over and done with for a while — except of course it's never been released!
It's the sequel to my third Pathinder novel, Beyond the Pool of Stars, which was my favorite of the Pathfinder novels published so far. I think I like this one at least as well, and there's a new point-of-view character in it that I really enjoyed writing. Well, make that two, although one is new to the narrative.
If you liked what you saw in Beyond the Pool of Stars, with it's Indiana Jones style search for missing treasure crossed with a Burroughsian jungle trek plus some pretty cool lizard folk characters, you'll find more of it. I think the tension's ratcheted up as our heroes track down clues to a lost city of Mirian's lizard folk friend Jekka's people, which may be fully inhabited. The problem is it lies through a mystical gate in the sea, and other people want to get there before them because of the sorcerous secrets that may lie behind.
Here's the official descrip:
Deepwater salvager Mirian Raas and her bold crew may have bought their nation's freedom with a hoard of lost lizardfolk treasure, but their troubles are only just beginning in this sequel to Beyond the Pool of Stars.
When Mirian's new lizardfolk companions, long believed to be the last of their tribe, discover hints that their people may yet survive on a magical island, the crew of the Daughter of the Mist is only too happy to help them venture into uncharted waters. Yet the perilous sea isn't the only danger, as the devil-worshiping empire of Cheliax hasn't forgotten its defeat at Mirian's hands, and far in the east, an ancient, undead child-king has set his sights on the magical artifact that's kept the lost lizardfolk city safe all these centuries.
I was ably assisted by the talented Chris Jackson, friend and fellow Pathfinder novelist, who provided a slew of feedback both on the prose and on the sailorish bits specifically, for Chris lives on the sea and knows his stuff and this novel is crammed with seagoing action.
Anyway, it's available now for pre-order and should come your way in February.