GenCon 2018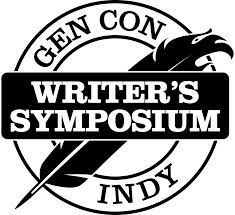 I'm back from GenCon with some amazing memories, some fine stories, and some gaming treasure, and I'll probably be talking about some of it in the coming days. For now, let me just say that it was certainly the most enjoyable experience I've ever had at a convention.
Maybe you've met someone you've really admired, or reconnected with an old friend, or made a new one, or grown closer with a friendly acquaintance through shared experience. Maybe you've heard an inspiring lecture, or gotten some great career advice, or seen some amazing products you'd like to own, or played a great game session, or made important business contacts. If you've experienced any of these things, it might be the highlight of the day, or week, or month, or year. At a convention, those things can all happen over the course of a few days. What would normally be the best moment of an entire month or maybe even year can happen the next hour after another similarly memorable event.
That's what happened to me this year.
I've tried writing about why writers should attend conventions before and I don't think I've ever quite summarized it as well as I just did here. Now not all of the above happened to me the first time I went to a convention, or the second, but some of it did. The more times you attend, and the more you mingle, the more friendships and connections you forge. That is, if you're kind and decent and socially skilled and passionate, but presumably all of you reading this meet that description.
For all of my readers who're wanting to break into the business, I say again, go to conventions. And try to make one of those conventions your home con and get involved behind the scenes. Work hard, be pleasant, and doors will open. Never be that guy who chases down the editor and thrusts a manuscript into her hands as she's sitting down for lunch. Play the long game. That can be hard to do if you're impatient, but it will certainly increase your chances of success, and you won't come off like a desperate fool instead of your normally pleasant self.
Also, go to good conventions. The Writer's Symposium at GenCon is one of the very best, and I can hardly wait to return next year.