The Beast and the Dragon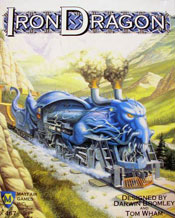 I'm still hard at work on my second Paizo Pathfinder novel, Stalking the Beast.
During the early parts of the day I'm getting the farm repairs managed before the weather gets really hot, and a lot of evenings I'm playing Iron Dragon.
I'm really not into trains, or train games, but some years back our friends Stacey Davis and Monique Robins introduced my wife and me to a rail building board game set in a fantasy land, and we had a lot of fun. We break it out every now and then and play a few games. My wife, who is incredibly well organized, almost always wins!
Here's a quick peak at the board, from a web site that has a bunch of nifty looking add-on rules.