Savage Lincoln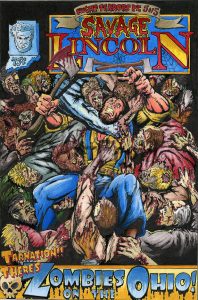 For the 5th year in a row my wife and I drove over to Louisville Kentucky this October to wander around the St. James Court Art Fair. There's lovely artwork, crafts, and jewelry of all types, not to mention delicious food and some fine music — and the beauty of the neighborhood buildings, many of which are turn of the century mansions. One of these years I'm going to take the time to grab a tour that's offered by a handful of them.
My wife purchased some swell necklaces and earrings. Me, I picked up another great refrigerator magnet.
Last year I stopped at the booth of David Frohbieter and had a blast contemplating his paintings of covers from non-existent, historically inaccurate comic books. I purchase a fridge magnet of Zombies on the Ohio, where it has continued to amuse me nearly every time I open the refrigerator. This year I snagged a new one wherein Holmes and Teddy Roosevelt seek out the Headless Horseman, and the "cover" is emblazoned with great phrases like "Two Heads are Better than None!" You can't see me, but I'm still grinning as I type this.
You can get a closer look at both pieces of artwork and all the fun details either by selecting and enlarging the images, or by clicking this link to David's website on Etsy. He's a cool guy with a great sense of humor.