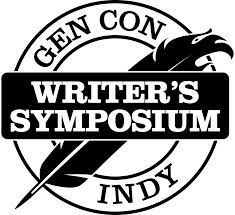 I haven't disappeared — at least, not yet. I've been getting ready for GenCon, which has meant helping to make sure the pantry was stocked, the laundry was done, I was packed and prepped, horse fence repairs continued, etc. Add in the start of the school year for both my kids and, well, it's been busy.
As a result, I've been absent from both this blog and my writing desk for the last few days. I have this crazy idea I'll be able to report in about GenCon each day, but conventions are pretty busy, so it will all depend. When it comes down to it, I'd rather be meeting new people than hiding in my hotel room typing, so a report may have to wait until I return.
I start my drive in just a few hours. As I mentioned before, my schedule is here. I'll be sharing a room with the Amazing Lou Anders and the Astonishing Scott Lynch. Who knows what adventures are in story for the three of us!
Hope I see you at the con.