Tales From The Magician's Skull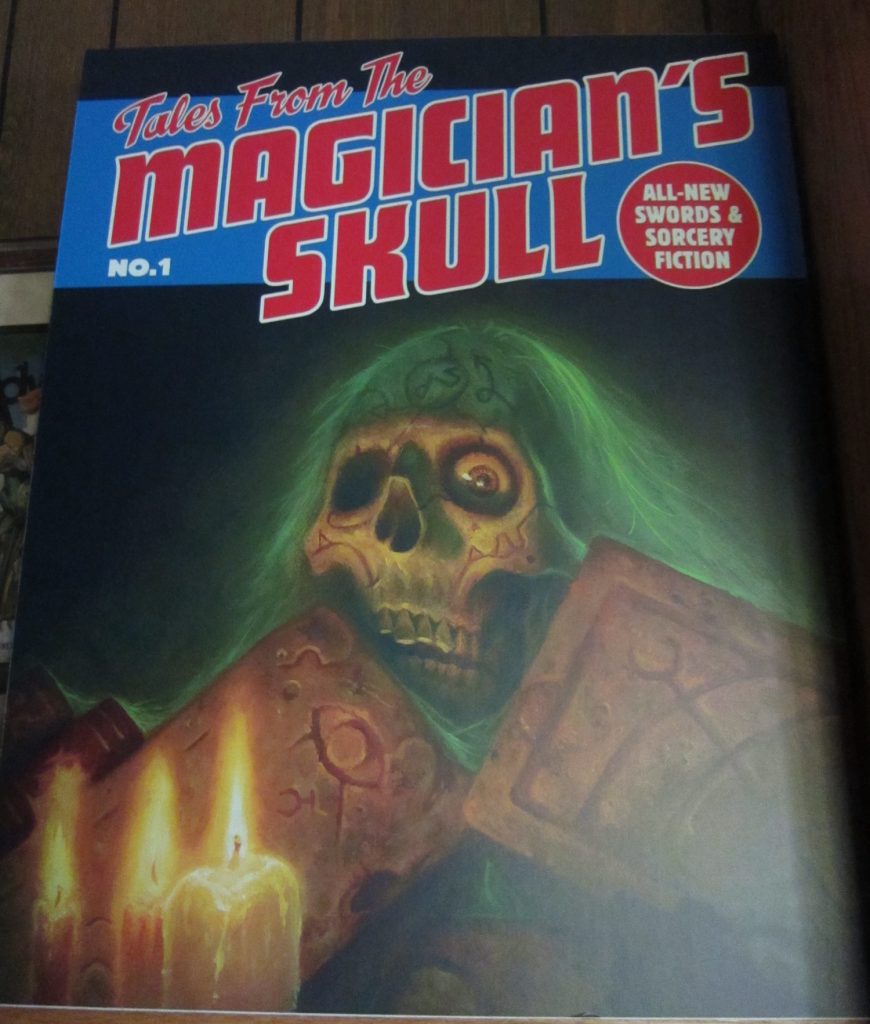 A gong shivers…
The mists part to reveal a grisly object lying upon a mound of rubble, a browned and ancient head with one glowing, malefic eye…
It speaks, in a voice of cold command: "Silence, mortal dogs! It is time now for
TALES FROM THE MAGICIAN'S SKULL!
In just a few weeks, Goodman Games will launch the Kickstarter for the exciting new sword-and-sorcery magazine inspired by Appendix N. I am mightily pleased to be the magazine's editor, and I've had a blast assembling it with Joseph Goodman. We've been working together for almost a year, and I've got to tell you that the result is GLORIOUS.  Just check out that Jim Pavalec cover.
I'll provide details soon about the contents but if the cover excites you, believe me, the contents will as well. Issue 1 is full up and I have nearly everyone invited for issue 2.
GenCon was a blast. I haven't decided whether or not I'll go into detail, but I will share that one favorite moment took place Saturday night when I left with the oversized magazine cover from the Goodman Games/Dungeon Crawl Classics GenCon meeting and walked with it from two blocks south of the convention center to several blocks north, where the GenCon Writer's Symposium farewell dinner was being hosted. I carried it boldly and proudly, and there were many walking the downtown streets, both GenCon goers and Indianapolis natives, who gawked, grinned, or did double-takes. I need to write Jim Pavalec and tell him about that.
Another great moment was when Joseph and I met over a ridiculously terrible breakfast to brainstorm about the future of the magazine and its upcoming Kickstarter.
I'll provide more details soon, including a sneak peek at the cover to issue 2, and a glimpse at the table of contents. I think you'll love the layout work of Lester B. Portly, responsible for the look of the magazine title.