Tales of the Dying Earth
I'm away from home on a borrowed laptop, so I'll keep this short. I just wanted to drop in and say how much I enjoyed the wrap-up of Jack Vance's Cugel's Saga, a novel contained in the orb omnibus Tales of the Dying Earth. I just finished it about a half hour ago on this mini-vacation, after slowly savoring it during the last month, and it was pretty marvelous… although keeping in line with previous comments I've made on my blog, I'm not sure younger Howard would have appreciated it as much.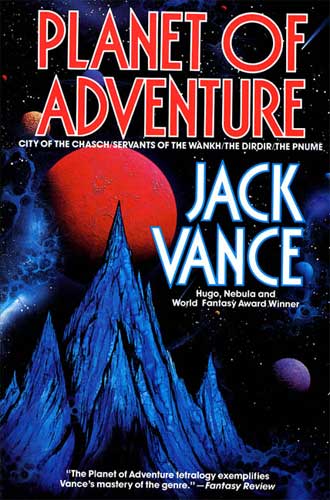 I'm not sure if I'm ready for more Vance right away or not, but I enjoyed it so much I think I'll stockpile some more for later reading. I see that there's an Alastor omnibus, which I should probably explore before I re-read his Planet of Adventure series. I love Vance's writing, though I usually tackle it in limited doses. I have a few standalones lying around the house, as well as some other series I've read or partially read.
Are any of my regular visitors Jack Vance fans? What are some not-miss titles? How do the Durdane books stack up?