Fists of Iron: Round 2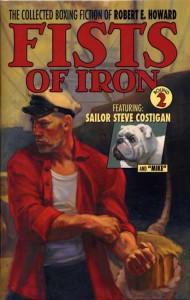 As frequent visitors to my site know, I'm a pretty big fan of Robert E. Howard's writing. I'm not any kind of a boxing aficionado, but some years back I decided to pick up a copy of The Incredible Adventures of Dennis Dorgan, a Zebra paperback with a bevy of Howard's tales about an American sailor named, wait for it, Dennis Dorgan. We see very little of Dorgan at sea, however, unless he's just getting off his boat, because all of the tales involve him battling in one kind of boxing ring or another. I never finished the book, so I can't tell you exactly why I went ahead and invested in the first two books of the complete boxing stories of Robert E. Howard.
Come to think of it, maybe I can.
Robert E. Howard was a consumate storyteller. When I think how much he could pull off by the time of his death at age 30 I ache to know what he could have done if he'd had more years to write. The boxing stories are tall tales, intended for long-vanished pulp magazines dedicated to attract fight fans and they're thus crammed with details about hand-to-hand combat. A lot of the battles are with boxing gloves and are waged by boxing rules, but some of them are more bare-knuckled bruisers. In the series stories there's usually not too much going on apart from the obvious, but part of their charm is the main character's unreliability and inability to see the obvious. Hard as it may be for the uninitiated to believe, Robert E. Howard had a knack for comedy.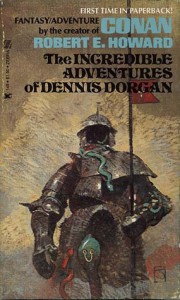 Fists of Iron: Round 1 was released last year and dealt mostly with serious standalone boxing stories written earlier in Howard's career. I've yet to finish it, although I've enjoyed what I've tried. But I have read my way through Fists of Iron: Round 2 since my return from vacation, probably because every tale within is centered around sailor Steve Costigan, and they're more polished than many of the stories in Round 1.
Here's the funny thing about that old Dennis Dorgan book. ALL the Dennis Dorgan tales were originally Costigan stories, with a name change so that REH could sell them to a different market. Confusing, huh?  REH was a working writer and had to find a way to get stories into as many markets as possible so as to put bread on the table. If that meant changing the titular Steve Costigan to Dennis Dorgan and the name of Steve's bulldog Mike to Spike, then so be it.
Here's what you'll get in Round 2: the first half of the Steve Costigan stories (the second half is to come with the printing of Round 3) and various related fragments that have wisely been left in the appendices rather than mixed in with the complete stories. Series editors Patrice Louinet, Christopher Gruber, and Mark Finn have done an excellent job in the introductions and afterwords to both volumes, placing the stories in historical context, evaluating them, and digging deep into their themes. I typically take some issue with the way editors describe or evaluate stories, but so far these three have been bang on the money with everything, saying just enough in their evaluations to provide insight without actually giving everything away. Once I finished reading a story I always went back to their analysis of it and sometimes proverbial light bulbs lit above me.
These stories are formulaic, a fact Howard himself was trying to overcome, although as he discovered, if he varied from formula too much the magazines didn't seem to want to publish them. Fists of Iron: Round 2 collects both published AND unpublished Costigan stories, and so you'll see a trick or a plot angle that was used in an unpublished story used again later, in a story that WAS published if you're reading the collection straight through. This can, unfortunately, add to the feeling of sameness, but it also provides you with an eye towards how REH worked. By God, if he had a plot idea he liked in a rejected story, he'd plug it into some new story, knowing that the other would never see print. (Likely he could NEVER have foreseen that there'd be a foundation to preserve his works.)
A reader shouldn't gorge on these, but enjoy a little bit at a time, as a reader would have done if he or she were  subscribing to a magazine where the story would have been but one selection in a table of contents. That way the repetitive nature of the stories doesn't pound you over the head. Spacing them out a little at a time over the last weeks I found myself looking forward to whatever ridiculous scrape Steve Costigan would get himself into, whether it be fighting for some wild-eyed Texans, battling for his skipper's ship's papers, or trying to locate his lost bulldog, Mike, in what is arguably the strongest short story in the entire collection, "The Fighten'ist Pair," which succeeds best because of an added layer of complexity, humor, and actual concern over what's been done with Steve's loyal canine friend.
I don't happen to think that  everything Howard wrote was gold (EVERYTHING he wrote that was published in his lifetime was written in a short span of years before his death at 30, so some stuff is obviously  going to be rougher than others). I discovered that I was pretty uninterested in a recent collection of his weird menace stories, for instance. Your own REH mileage may vary. I can predict that some of you even with shared taste wouldn't quite find these to your liking. They certainly aren't PC, or especially refined, and there are no real female characters to speak of… but then nearly everyone is a stereotype, including Costigan himself, as befits a tall tale.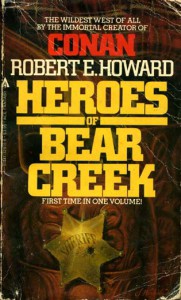 On the other hand, if you want some great examples of hand-to-hand combat mixed in with some tall-tale humor, Round 2 is a great place to get them. Most of the stories may not be quite top drawer Robert E. Howard, but they're a lot better than you'd think they'd be, even if you're not a boxing fan (I suppose that if you ARE, you'll be super pleased).
I have a large stack of TBR books, some of them quite long, and some of them bound to be impossible to put down. In the midst of too many writing projects I just don't have the time to read long absorbing works, so it has been a sincere pleasure to sit back with a short Steve Costigan tale every other night or so for the last couple of weeks, enough that I miss having new ones and look forward to the release of Round 3. Round 2 left me with a smile on my face. I suppose while I'm waiting for Round 3 I can dig back into my collection of REH's tall tales about his western hero, Breckenridge Elkins. Another series that's good for some laughs and that shouldn't be read back to back.
My final verdict? I am pleased to have purchased the book, and look forward to reading the rest of the series. I commend the Robert E. Howard foundation and the series editors for taking such good care of these neglected works.