A Tip of the Fedora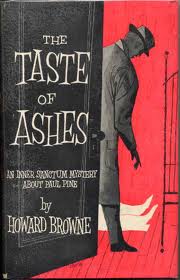 I finished  more noir books the other day despite the fact I said I needed to get back to reading some  modern fantasy. All three of these books were short, which was a huge lure, seeing as how most modern fantasy weighs in decidedly on the other end of the spectrum. Also, one of them doubled as research. I suppose in a way ALL of these double as research. Hand picked as these noir books are by John Chris Hocking, who's very well read in noir, I'm getting a real education in great writing.
First up was the poorly titled but well-written Swamp Sister, by Robert Edmond Alter, chiefly concerned with how a lost plane carrying a huge bankroll transforms the behaviour of the folk living in and around the area. Immersive descriptions, great character arcs and plenty of surprises. Also a big leg up for me as I begin contemplation of describing some swamp land myself in an upcoming Paizo Pathfinder book. Surprisingly good.
Next up was Jim Thompson's The Killer Inside Me, which was pretty fascinating, but hardly left a good taste in my mouth, seeing as how it was from the viewpoint of a sociopath. Apparently it was a favorite of Stanley Kubrick's and has been made into a motion picture. Well-written, but I don't know that I found it my kind of thing. Maybe it's all those years watching Star Trek or reading fantasy, but I generally prefer my protagonists to have some kind of moral code. (I guess Parker and Quarry are the lone exceptions, but then they do what they do for professional reasons, not for kicks.)
Which leads me to the third book, which I just finished last night, and it was just a lovely and somber and powerful a detective story as Hocking promised. This was The Taste of Ashes, by Howard Browne, which was so finely written it could almost give Chandler a run for his money. Not only was it loaded with the soaring language and action I found in Chandler, the plot was tight as a drum. Great stuff. If you've read Chandler but never read THIS book, run, don't walk, to get thyself a copy. I understand Haffner Press is going to print a complete hardback  of Browne's detective novels, and I'll be first in line.
John Chris Hocking, here's a tip of my fedora in thanks.