Sad News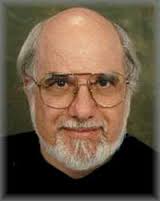 Last last month Bob Weinberg passed away. Pulp scholar, anthologist, writer, and all-around great guy, Bob has been a fixture in science fiction, fantasy, and pulps for longer than I've been alive. My heart goes out to his family and friends.
I didn't know Bob well, but I had the pleasure to meet with him several times over the years. I was first introduced to him a little before he wrote the introduction to one of the Harold Lamb anthologies I edited (Swords from the West). I got to know him better when I met him at conventions over the years. He was one of the few people I knew at my first World Fantasy Convention, and greeted me warmly. And he was always there at every single pulp convention I attended, smiling, witty, sometimes curmurdgeonly, though in a gentle and teasing way. He was extremely knowledgeable about the fields of fiction I love, and always had a good story to tell about some of my genre heroes.
I liked him, a lot, and falsely assumed that he'd always be a fixture at the conventions. Certainly he seemed to have boundless energy the first few times we interacted. He'd appeared tired the last two times I bumped into him, and I saw on Facebook that he'd had some recent medical issues. I also thought I'd seen that he'd pulled through them. I wish I'd kept closer track.
Locus has a detailed obituary detailing all of this fine man's accomplishments, including his winning of the Stoker Award. He will be missed.