Reviews and Praise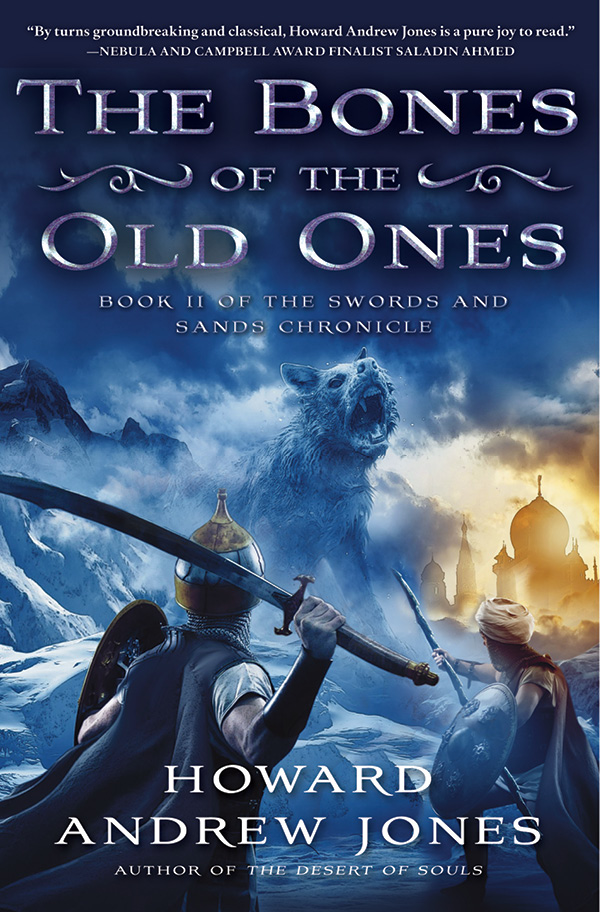 A few early reviews of The Bones of the Old Ones and words of praise from fellow authors have come in, and it dawned on me the other night that I hadn't posted them all in one place. First, the final, official cover copy:
As a snowfall blankets 8th century Mosul, a Persian noblewoman arrives at the home of the scholar Dabir and his friend the swordsman Captain Asim. Najya has escaped from a dangerous cabal that has ensorcelled her to track down ancient magical tools of tremendous power, the bones of the old ones.
To stop the cabal and save Najya, Dabir and Asim venture into the worst winter in human memory, hunted by a shape-changing assassin. The stalwart Asim is drawn irresistibly toward the beautiful Persian even as Dabir realizes she may be far more dangerous a threat than anyone who pursues them, for her enchantment worsens with the winter. As their opposition grows, Dabir and Asim have no choice but to ally with their deadliest enemy, the treacherous Greek necromancer, Lydia. But even if they can trust one another long enough to escape their foes, it may be too late for Najya, whose soul is bound up with a vengeful spirit intent on sheathing the world in ice for a thousand years…
And now, some praise. Look, I'm blushing a bit!
"By turns groundbreaking and classical, Howard Andrew Jones is a pure joy to read." – Nebula and Campbell Award finalist Saladin Ahmed
"Jones is a resurrector of unfairly forgotten tales and an illuminator of a neglected milieu. His love for the setting of the Dabir and Asim stories is as obvious as his grasp of classic sword-and-sorcery forms. The result is something rich and brisk at the same time, just as it ought to be." –Scott Lynch, author of Red Seas Under Red Skies
"The Bones of the Old Ones is one lovely fantastical adventure, blending mystery, romance and magic in such a way that I had to keep reading.  There were moments of laughter, passion, and edge-of-my-seat surprises.  A fabulous read!" –Elizabeth Vaughan, USA Today bestselling author of the Chronicles of the Warlands series
"In the midst of a sea of Tolkien clones, Howard A. Jones stands out with his Arabian Nights inspired detective stories. Rollicking, and magical. What more could you want?" –Mary Robinette Kowal, Hugo and Campbell Award Winner
"The Bones of the Old Ones is a damn good tale that not only pays homage to the masters, but sets its own print on the genre." –SF Signal
"This rousing sequel to The Desert of Souls offers a mélange of ancient adventure myths populated by convincing, endearing characters… As intricately woven as the magic carpet of Greek sorceress Lydia, Jones's tale incorporates real historical personages and settings like Mosul of "haggard beauty" from the early days of Islam, and fills the pages with gallantry and glamour to provide a thrilling spectacle." –Publishers Weekly, starred review
Don't forget about the Goodreads contest to win one of three  free copies. It's available for pre-order through most major bookstore chains and e-sites  and will be released on December 11. A sneak peek at the first chapter is available here.