Cool Gifts
We had a nice Christmas here at our little tower upon the Sea of Monsters. I've been a bit under the weather for about a week, but it didn't hit hard until late Saturday night, which meant I was free to enjoy Christmas with my family and extended family and spend some time with some close friends Saturday evening. Sunday I was laid pretty low, although I'm good enough now that I can climb up an old ladder to clean out some gutters. Yay for that.
Whilst lying around I did some reading for fun. I have a friend's story to edit but didn't feel clear enough headed to attempt that, so it is slated for this week.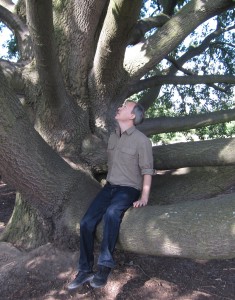 I thought I'd share my gifts with the wider world. My wife and I really only exchanged a few this year, owing to the fact that the oven and the TV both went out recently. So, for instance, I got a new one of my favorite shirts (like the one I'm wearing in this photo at Kew Gardens, where we THINK Carl Sagan might have been sitting in the original Cosmos) but my wife actually ordered it for me way back in September when there was a huge sale at SCOTTeVEST. (Speaking of which, they're running a huge sale right now, through January 4.) Not only do I like the fit and the look, it has scads of pockets, which is great for the traveller, and convenient regardless.
My favorite gift has to be the sketch my son drew of one of the main characters in my new series. You'll note that he has really strange eyes. He's named Kyrkenall, and he's the most Corwin of Amber like character I've ever designed — although he's less of a long term planner. You'll note he has a bit of a Persian look to him.
There's an important story behind both the sword he's clasping and the great black horned blow over his shoulder. He's one of the last Altenerai, the heroes of the realm whose superhuman prowess is legendary. That uniform coat he's wearing is what's known in some parts of Asia as a khalat.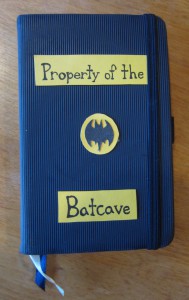 My daughter altered my favorite notebook for me, which is something I often carry in the pocket of my shirt.
I'm honestly surprised how well the alterations are holding up being taken in and out of my pocket! This is a Sigel, which remains my favorite model. (I went into probably too much detail earlier this year about writing notebooks and why I like carrying one with me.)
Just before Christmas a little package arrived from Scott Lynch, and inside was a treasure that's been delighting me ever since. Currently it's sitting on the kitchen desk, mostly because it amuses me that my wife finds it so hideous, but also because my son and I keep wandering past to hit the button and listen to Spock and Kirk talk about the Horta. You can even hear Spock shout: "Pain!"
It's designed as a Christmas ornament, but I'll probably move it to my office desk after the New Year.
There were also some necessities for the truck — over the years I've lost or misplaced a number of bungee cords and tighteners and now I have a wonderful set of them. And the wife and I also have some gift cards we'll be putting to use towards a new television.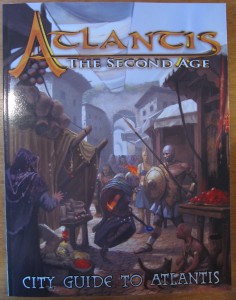 In the months before the holidays I sold off a lot of stuff, either via Ebay or by trading it to Wayne's Books. Some of the money I put straight away to some expenses I'd accrued, but some of the money I made selling off books I naturally used to buy more books. Because I was too busy writing to actually read any of those books, I counted them as Christmas presents, especially because I got to read them two days after Christmas after being flattened by a nasty head/chest cold.
First up was the new(ish) supplement for Atlantis: The Second Age detailing the city sectors of the lost metropolis, at least as envisioned by the fine folks at Khepera Publishing. I happen to be a huge fan of their Atlantis product line, although I don't know that I've ever mentioned that, or discussed it in a review. I should remedy that next year.
I love reading game books with great world building — strange places that are well envisioned and crammed with story hooks and interesting people and creatures. Doing it well is an art, and it has a lot in common with novel writing. I happen to think the Atlantis books are great examples of doing it right. They're based on some books originally written by Stephen Michael Sechi, the fellow behind Talislanta, one of my all-time favorite game settings.
The world of Atlantis also happens to be a great sword-and-sorcery setting. Tell you what, I'll cover it in more detail in the coming months. You can find out more about it here.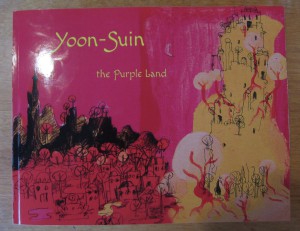 I also picked up Yoon-Suin, a fabulous book that helps you generate your own fantastic Asian/Tibetan city and surrounding countryside stuffed full of the weird and wonderful. It's crammed full of great world building and  prose poetry. You can read excerpts of the colorful travelogue here, find other tidbits from the author in a related vein at his website, here, or purchase Yoon-Suin at Lulu, here (it's also available as a PDF — although I got it in print, with a little help from a great holiday Lulu coupon for 30% off, running again right now). Even if you're not a gamer you really ought to read the travelogue. It's just wonderfully done.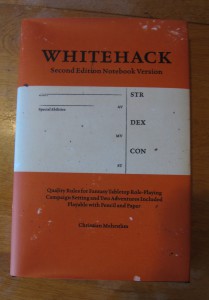 I loved Whitehack so much (I mentioned it last week, I think) that I picked up a copy in hardback, courtesy of a sale that's running through the first part of January. I mentioned its elegant game system, but I didn't mention that it, too, has a cool little campaign setting. Whitehack is something I should discuss in more detail in the coming weeks.
While ill I also read my son's new Avatar: The Last Airbender graphic novels, one of his Christmas gifts. They were awfully close in style and feel to the original series, which is a big hit in the Jones household. I don't think that they ever quite dealt with the madness of Princess Azula in a satisfactory fashion, but she's not a character in the first or third of the graphic novel series. I though the third of the graphic novels particularly strong, and I'm looking forward to seeing the fourth, which isn't completed yet, or at least isn't available yet in hardback format.
Here's hoping that your own holidays are treating you right, and that you're spending quality time with friends and family. Also, illness free time.