Off to GenCon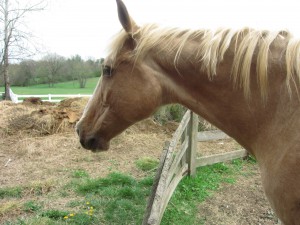 Late this morning I'm headed out on a comparatively short drive to GenCon. I'll be there in a little under three hours, which isn't too bad at all. I'm arriving a day early to meet up with friends and fellow writers from the Writer's Symposium, one of GenCon's best kept secrets. In my absence the home will be protected by a black belt, a brown belt, two dogs, and four man eating horses.
I kid — the horses aren't actually man eaters, but everything else is true — although I think my nimble brown belt is probably more dangerous than the black belt, as her kicks have a helluva lot of power behind them. I've never forgotten that three teenaged girls were testing for their black belts at the same time I tested for mine. They might have looked slight in frame, but due to great flexibility and long coltish legs they were probably twice as dangerous. That sudden, precise snap at the end of the kick looked like the receiving end would be mighty painful.
Anyway. Once at GenCon I'll be sitting down on any number of writing and publishing panels for the next four days, trying to offer wise nuggets of advice, and I'll frequently be at the Paizo booth in the Great Hall signing books. I'll print the complete schedule again below. Click here to find a description of the Writer's Symposium and further links to my adventures at last year's convention.
I attend not just as a participant, but as a customer. I'm looking forward to seeing friends, fans, and colleagues, and to seeing all the treasures in the Great Hall. Some  of those treasures I'll just wander by and marvel over, like the furniture especially designed for gamers, and others I'll leaf through and "remember when." But I'm sure I'll be making some purchases. I'm a sucker for Traveller books, even if I never actually play the game anymore, and as regular visitors know, I've grown quite fond of both Castles & Crusades and Savage Worlds, so I'm apt to buy a book or two at their booths. And who knows — I'll likely stumble upon some neat thing I've never seen before that I've just got to have! I've even heard that Primevel Thule is going to be available. I pledged their Kickstarter last year, so I'll definitely be lining up to pick up my copy of the book — so long as I don't have to wait in a REALLY long line.
I'm taking my camera this year, again, and will try to remember to snap a few more pictures. We'll see if I get my act together enough to do it.
Hope to see your there!
Howard's GenCon Schedule
Indianapolis, IN — August 14-17, 2014
Thursday, August 14
9:00 Writer's Craft: Writing 101. "In this introduction to writing, we cover everything from the grammar basics to punctuation. It's a one-hour crash course that's perfect for new writers or authors looking to brush up their skills." Held in Room 243 with Michael Z. Williamson, Jason Schmetzer, Andrea Howe, and Moderator Elizabeth Vaughan.
1:00 – 3:00. I'll be at the Paizo booth in the Great Hall.
3:00 Writer's Craft: Team Dynamics. "Learn to make a group of characters more than just a bunch of people in the same room, and explore how the team is impacted by the growth of the individual characters in it." Held in Room 245 with Erik Scott de Bie, David B. Coe, Carrie Harris and Moderator John Helfers.
6:00 Writer's Craft: Editing Your Work. "Make your stories the very best they can be with these tips, tricks, and techniques for editing your own work." Held  in Room 245 with Geoffrey Girard, Kameron Hurley and Moderator Kelly Swails.
Friday, August 15
10:00 Editing: What is an Editor? "What is an editor? Who assigns them to your project? What do they do? And can you ignore their advice? All the secrets of editors will be revealed in this illuminating panel!" Held in Room 244 with Gabrielle Harbowy, Jerry Gordon, Erin Evans and Moderator Kerrie Hughes.
11:00 – 1:00. I'll be at the Paizo booth in the Great Hall.
3:00 Writer's Craft: Writing a Synopsis. "Learn what a synopsis is, what it's for, and how to write one. We'll also look at the different ways to write a synopsis based on your target audience." Held in Room 243 with Greg Wilson and Moderator Marc Tassin.
7:00 Writer's Craft: Twists Vs. Gimmicks. "Explore the difference between twists that make stories interesting and gimmicks that make readers groan. Tips and tricks for walking the thin line between interesting surprises and tired tropes." Held in Room 245with Brian McClellan, Cassandra Rose Clarke, Greg Wilson, and Moderator Don Bingle.
Saturday, August 16
9:00 Writer's Life: Writer's Toolbox. "Go beyond Google Searches as we dig into the tools writers rely on to craft their stories. From tips on performing expert interviews to online resources, our panelists share their favorite tools." Held  in Room 245 with Chris Jackson, Jason Schmetzer, Sam Sykes, and Moderator Elizabeth Vaughan.
11:00 – 1:00. I'll be at the Paizo booth in the Great Hall.
Sunday, August 17
10:00 – 12:00. I'll be at the Paizo booth in the Great Hall.
3:00 Paizo Pathfinder Tales Seminar. Room 231.