GenCon AND More on Ki-Gor
I wanted to follow up on two completely unrelated posts today.
First, I've mentioned that I'll be spending a lot of time at the Paizo booth in the Great Hall at GenCon in Indianapolis next week (in addition to the hours I'll be spending on panels during the Writer's Symposium). As I've mentioned in the past, the Writer's Symposium is chock full of good panels if you're at all curious about the industry, or about bettering your own writing — or if you just want to find out more about your favorite writers!
Here are my hours at the Paizo Booth:
Thursday 1-3
Friday 11-1
Saturday 11-1
Sunday 10-12
You can see my full schedule over on the Appearances page, which lists not only my panel times (and the panel locations) but the topics under discussion during each panel. I hope to see folks at one place or the other, or simply as I'm wandering around taking in the sights.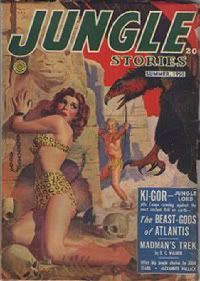 Second, following up on my Ki-Gor post of a few days ago, I was contacted by Phil Lovecraft, who wondered why I almost always discussed physical books rather than e-books. I somewhat shamefacedly admitted that was because I don't yet own an e-reader. At first that was simply because of cost, and then it was because a lot of the stuff I'm interested in (earlier fiction) wasn't available in e-format. But now prices are lower and a lot of more obscure stuff is becoming available, cheaper, than some of it is in its original format (for instance the works of Ben Haas –aka John Benteen and Thorne Douglas — and Wade Miller, about whom I still need to write a good post). I guess that means I'll make an e-reader purchase sooner or later.
I digress. Back to Ki-Gor, you can visit the comments section from my Ki-Gor post to find three good links from Phil, or, if you've grown curious about Ki-Gor after I discussed the series strengths and weaknesses, jump straight to this online copy of one of the best.
As promised in the article, it's cliche and non-PC and entrenched in its day, yet at the same time is leavened with stirring (and purple) narrative, driving pace, evocative description, and colorblind heroes, including brave black men who are WAY cooler and more capable than you'd have thought from the time. Keeping in mind ALL the detailed caveats from the post of the other day, here, then, is one of Ki-Gor's very best, "The Beast-Gods of Atlantis," in two formats: flipbook, and PDF.