Elyana Action Figure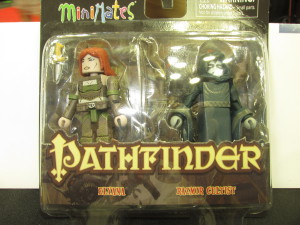 I've had limited Internet access and limited time, so I didn't get to an update this morning. I'm having a fantastic time at GenCon and the Writer's Symposium. The Paizo crew has always treated me wonderfully, but I had a special treat when I arrived at the booth Friday. Publisher Erik Mona handed me a MiniMates pack that features the main character from my first two Paizo Pathfinder novels, Elyana Sedrastis.
I've got to tell you — it's pretty cool seeing an action figure based on a character that you created, and I heartily thanked Erik.
I swore to myself I'd take more pics of the convention this year, and so I have, and here are just a few, mostly from the great hall. More will come next week.