Carter & de Camp Pastiche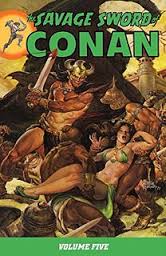 A few months ago I pulled down my old Conan paperbacks to re-read what I'd remembered as a pretty decent pastiche, de Camp's "Halls of the Dead." The bones of the story were pretty good, most likely because they were from a very detailed outline Robert E. Howard himself had set down (now popularly known as "the Nestor fragment"). But man, was the execution terrible.
And in the past few months I've been exposed to more de Camp pastiche than ever as I worked through various Savage Sword of Conan volumes. On the whole, they're just not very good, even in outline form.
The only exception I suppose I have is when de Camp changed names and settings in one El Borak story and turned it into a Conan tale. Even that isn't entirely successful — until it makes its way into comic form in a Savage Sword story, at which point, in the hands of Buscema and Thomas "Sons of the White Wolf" kicks an awful lot of sword-and-sorcery butt.
Do any of you enjoy the de Camp and Carter pastiches? If so, which ones?