I've written of the power of Robert E. Howard's prose any number of times, and I'm sure that there's more that could be said, and that will be said. Today on his birthday, though, I'll merely reflect again on what I've written in the past, and this evening hoist a drink to one of my favorite writers while reading one of my favorite stories by him.
Over the weekend I finished the last of the Marvel collections that assembled all of the Roy Thomas Conan run. I'm not sure I'd recommend running out and buying that particular collection, unless you're a completist. On the whole, the earlier phase of Thomas on Conan was better. Let me provide another shout out for the Thomas 12 issue arc for Dark Horse, collected in two graphic novels. (Those are volumes 11 and 12, The Road of Kings and Throne of Aquilonia, and they are two of only three volumes from the Dark Horse run that I've bothered to keep hold of.)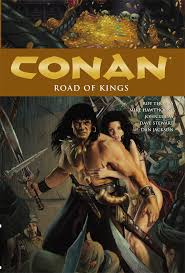 I've been told that story arc really isn't very popular and I can't for the life of me figure out why that is. The storytelling was top notch and Conan sounded and behaved like Conan… and the world felt right, too, which is something that doesn't seem to be appreciated enough by some readers, who only care about whether or not Conan's muscles are the size they think appropriate. In issues written by other hands there's too much of the supernatural, so that it almost feels common place, or the plotting is off, or, worst of all, Conan isn't right.
Roy Thomas gets Conan and what his world is like more than nearly any other pastiche writer, and consistently got him better than any other comic pastiche writer, period. That's not to say that there weren't some great issues and arcs written by others, but Thomas usually got it right. Even in a lesser story, Conan still acted like himself. And that's a lot more complicated that it seems, or there'd be a lot more good pastiche out there.