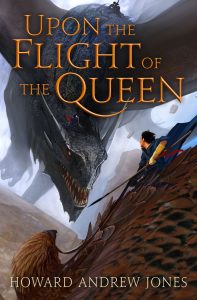 The unofficial cover copy has been turned over for book three now, and it looks almost certainly like it's going to be titled When the Goddess Wakes. I'm sure before the end that cover copy will be tweaked a bit, but it's a milestone on the road to completion.
At this point the first act of the book is pretty solid and act two is getting there. I know what's going to happen in act three, for the most part, although I'm still undecided about a few points, which means I'm still eager to see what happens to some of the characters. Maybe it's just the way I work, but if I'm not a little curious to see how things work out I don't write as well. I imagine that I'll have a fully working rough no later than the end of April, and it may even be polished by May. I'm not sure what that bodes for the release day, because there can often be a long delay between completion and printing, but I can guarantee you won't be waiting TOO long.
For those of you who are readers of the magazine I edit, Tales From the Magician's Skull, issue 4 is in layout right now, and preliminary work is starting on issue 5. I'm also starting to draft material that will be required to open the magazine for submissions — dos and do nots, primers on what sword-and-sorcery is, that sort of thing.
I've been keeping my hand in writing more short stories over the last year, as I had hoped. I didn't manage nearly as many as I had ambitiously planned, but I DID compose two new Dabir and Asim stories and wrote three new Hanuvar stories. I also plotted out even more Hanuvar tales and now know how I want to fill what I eventually hope will be the first of several collections featuring his wanderings. I have numerous ideas for his adventures in the future. As he's one of my favorite characters, this pleases me. Hopefully fantasy fans and readers will begin to discover him.
Preliminary research and plotting has begun on the book that will follow the ring-sworn trilogy as well. All-in-all, the writing is advancing nicely!