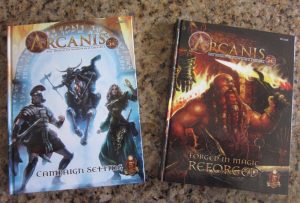 I had so much fun at GenCon this year it's hard to know where to begin, but as I'm running late already today I'm just going to show you a few of the treasures I picked up.
First, while I was walking to the Modiphius booth with my friend Sarah Newton (talented writer and game designer) I glimpsed a nifty looking role-playing book with what looked like a Roman Legionnaire on the cover. I'll share some more info about the treasures at the Modiphius booth in the coming days, after I've had more of a chance to absorb their glories.
I was so taken with what turned out to be the Arcanis booth that I dropped back by, looked through the books, and met Henry Lopez, the campaign setting's author. He turned out to be a fan of my work, and after leafing through one book he generously gave me and another I bought I'm now a fan of his. Any of you regular visitors know what a sucker I am for the ancient Mediterranean as a setting. Lopez created a secondary world highly flavored by ancient Rome and other nations, dosed with some Robert E. Howardisms (like serpentmen) and then creatively applied new twists on some old tropes. I'll definitely be keeping an eye on the system and its future releases. This is cooool stuff.