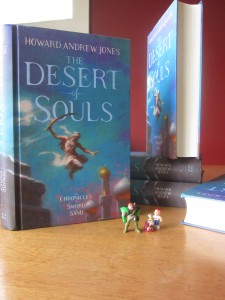 I'd like to think that I learn a little more about writing with every book, and I thought that it might be useful to my fellow writers if I shared what I've learned… often the hard way.
Before I ever got to the first published novel I had at least five others that didn't make the cut. I write "at least" because three of those five were rewritten numerous times, sometimes nearly from scratch, so maybe the total is more like ten or twelve. Yeah, that many.
I am reminded of what I heard as a creative writing minor in college when a published author dropped by to talk to us. He said that it might take us multiple novels before we got published, and he cited a figure close to ten, because that's how long it had taken him. I remember thinking to myself that I would certainly figure things out faster. Hah! The arrogance and optimism of youth. I sure thought I was special (even as I was brimming with insecurities that I really wasn't). Would I have stuck with it so long if I'd known success wasn't waiting around the corner? What if I'd known the advice I later heard, about having to put in about 10,000 hours before you were good enough to be professional with a skill? I think that little gem is probably pretty accurate for most of us, as it turns out.
Probably I'd still have kept at it. I've always wanted to be a storyteller, even if I thought I had more of a natural knack that wouldn't require quite so much time to get right. Of course, some people get it right the first time out of the gate, like Lynch and Rothfuss. That wasn't me, alas. Maybe to write your first one it helps if you're a more seasoned human being, because some of my challenge was that I hadn't experienced enough life to write a convincing novel when I was in my teens or early 20s.
So what did I learn in the writing of my first published novel, The Desert of Souls?