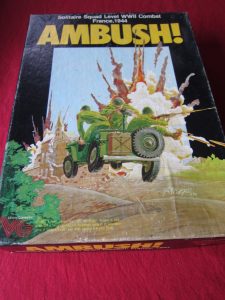 When I was first getting into solitaire boardgames a few years ago I kept hearing that one of the best of them all was Ambush! from Victory Games, so I dutifully tracked it down, set it up on the table, and after playing one mission decided it wasn't for me.
Boy, did I miss the ball on that one. I think the reason I didn't appreciate it was because I hadn't ever been exposed to heavier boardgames, and I didn't give myself a chance to get used to the play. Now that I've been getting into more and more detailed tactical games, I got to questioning my earlier judgment that Ambush! had been fiddly and tedious. Chris Hocking, whose taste I agree with upwards of 95% of the time, kept telling me it was a great game and how he couldn't believe I hadn't liked it.
I found myself in the middle of a shelf purge of games I wouldn't be playing anymore, and with that gaming cash in the 'ol e-wallet chanced to mention to a gamer I sold one of the games to that I wanted to track down Ambush! again. He had the game and most of its expansions and happily sold them to me. They're just in fantastic shape (thanks, Glen!). You see, Ambush! has been out of print since some time in the '80s and it's unlikely it will ever be reprinted, so the used market is the only place to acquire it.