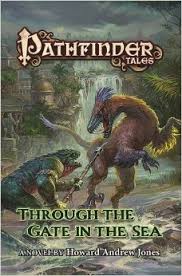 A few weeks ago Paizo's James Sutter asked me to draft an essay about my newest Pathfinder novel, Through the Gate in the Sea. It ended up being a peek behind how I drafted the novel, with a little discussion about my own role-playing gaming. If that sounds of interest, you can find it here.
I think this novel, and its predecessor, Beyond the Pool of Stars, are stronger than their predecessor Pathfinder novels. In particular I love the characters, and would like to return to them someday. The famously hard-to-please reviewer known as Mrs. Giggles even seemed to like this one, although she couldn't help sideswiping the previous novel a little as she talked it up. Ah well. I was pleased that she enjoyed the book as much as she did!
This week also brought a video review from Dungeon Master Mark, one which could only be described as glowing. So, good news all around, actually.