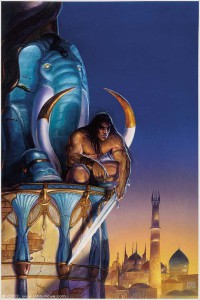 I'll keep this brief. In my limited spare time I've been working on a couple of projects that I can hardly wait to reveal… but must. One of them is going to be of great interest to sword-and-sorcery fans, and the other is research for a genre I've never written in.
Most time, though, has gone to the creeping progress towards the conclusion of the revision of book 1 of my big new series. And darned if I can't really talk too much about that, either. I just hope all of this hard work is going to pay off.
It's probably no fun to read such a mysterious entry, so let me point you towards something fairly cool. Hocking noticed this a couple of weeks ago and I've been meaning to share it. Here's an essay about Conan and Robert E. Howard that manages to see things from a new and insightful perspective. I especially like the part where the writer calls out the perception of "failings" in the execution of "The Tower of the Elephant."
Right — back to the salt mines.