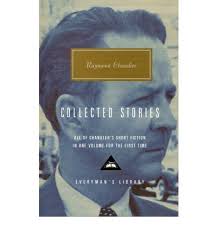 I became a Raymond Chandler fan only a few years ago because I'd seldom wandered beyond the genre walls I threw up for myself — historical fiction, history, fantasy, the occasional space opera or hard science fiction novel. As I've mentioned previously on this blog, I fell for Chandler's prose, so it was only natural that I explore his canon.
On my birthday last year my friend Brad gifted me with a copy of Chandler's complete short stories. They include a slew of tales Chandler never wanted reprinted during his lifetime, perhaps because he wasn't as fond of them, but more likely because he had cannibalized them in the construction of many of his Phillip Marlowe novels. It also includes a final Marlowe short story.
My thoughts? Well, first, there are some great short stories in here that any fan of mystery fiction might have heard of, like "Gold Fish" and "Red Wind." If you don't already own a Chandler short story collection that contains these tales — and some other strong ones as well — then this collection is a must have. But that other stuff? It varies. "The Pencil" is the last Marlowe story and it seems somehow faded and removed and tired. It has some of that famed polish, but it's not written at the height of Chandler's game and is probably only worth a look for completists.