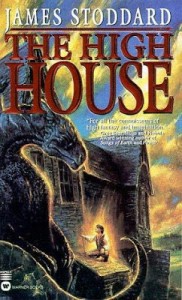 Just last week I discovered from an interview Nick Ozment held with the talented James Stoddard that there's a third Evenmere book. I also learned that Stoddard had revised the second of the two previous books (The False House) to raise it to the standards of the first.
The first meaning The High House, which is among my favorite novels. It's a house that sort of contains the universe in its myriad passages, attics, and hidden ways, and is a loving homage to the Ballantine Adult Fantasy series from the late '60s and early '70s. (And no, you wags, not THAT kind of adult. Once upon a time it had to be stressed to readers that fantasy wasn't just for kids.)
The High House is a wonderful men's coming of age story. It's not a child's story of a boy learning to grow up, it's a man learning to stand on his own. Main character Carter Anderson has to come to grips with his vanished father, learn how the world works, seek wisdom, overcome heartbreak, find common ground with his estranged brother, etc. And it all happens under a backdrop of mystery with wondrous places and fantastic scenery and beautiful writing and amazing magical tools. I love it.