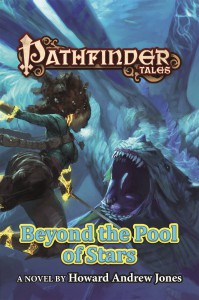 I generally put a little thought into each book dedication I write, but yesterday the one I drafted stopped me cold and left a very long shadow through the rest of the day.
As I'd hoped, I finished revising my fourth Pathfinder novel last week and sent it back in first thing Monday morning. The only part left on its to-do list when I got up was to draft the acknowledgments and dedication. The acknowledgments were simple enough — I was grateful to several people who'd provided guided and feedback, and thanked them accordingly.
But the dedication… When I sat down to write this book two summers ago, my friend Kris was alive and well. And last summer, when I revised it, he was doing fine. Last fall he passed away on an operating procedure after a perfectly normal minor surgery went terribly wrong. And so the book is now dedicated to his memory.