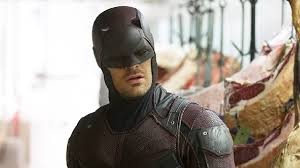 Dear Daredevil TV Show,
I'm ending our relationship.
You have so many admirers and groupies that I'm certain my own absence will have no effect upon your feelings, but I wanted to air my grievances anyway.
I was pre-disposed to like you a lot, maybe even love you. Sure, I wasn't a huge DD fan who owned all the Frank Miller graphic novels, but I like a good superhero comic or show and I have fond memories of reading all of my sister's Daredevil comics. I even bought some myself back in the day.
(If anyone hasn't seen the show yet, there are SPOILERS GALORE in the following. Be warned!)