We had a nice Christmas here at our little tower upon the Sea of Monsters. I've been a bit under the weather for about a week, but it didn't hit hard until late Saturday night, which meant I was free to enjoy Christmas with my family and extended family and spend some time with some close friends Saturday evening. Sunday I was laid pretty low, although I'm good enough now that I can climb up an old ladder to clean out some gutters. Yay for that.
Whilst lying around I did some reading for fun. I have a friend's story to edit but didn't feel clear enough headed to attempt that, so it is slated for this week.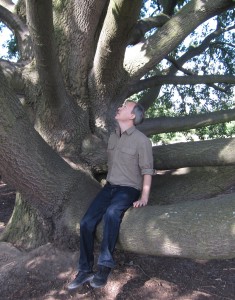 I thought I'd share my gifts with the wider world. My wife and I really only exchanged a few this year, owing to the fact that the oven and the TV both went out recently. So, for instance, I got a new one of my favorite shirts (like the one I'm wearing in this photo at Kew Gardens, where we THINK Carl Sagan might have been sitting in the original Cosmos) but my wife actually ordered it for me way back in September when there was a huge sale at SCOTTeVEST. (Speaking of which, they're running a huge sale right now, through January 4.) Not only do I like the fit and the look, it has scads of pockets, which is great for the traveller, and convenient regardless.