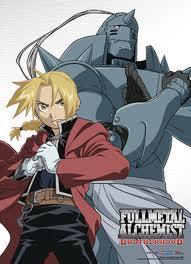 I chanced upon a show a few years ago that began with potential and then delivered on it episode after episode. I found fabulous world building and strong character arcs.  I watched half hour after half hour the way I devour chapter after chapter in a great fantasy novel, poised on the edge of my seat wondering how things would resolve.
The show that so enthralled me is Fullmetal Alchemist: Brotherhood. The series is set in an alternate world in the 1900s, one very similar to our own, except that alchemy is real. Those talented and diligent enough can transform matter from one state to another — fix a broken radio into one that works, or convert a metal bar into a sword. The story's protagonists are a pair of young brothers of tremendous talent who used their powers to commit the ultimate alchemical taboo: they tried to bring their dead mother back to life. They paid a terrible price when the transmutation went horribly wrong, and spend much of the series trying to put things right.
As the young men search for solutions they uncover  hidden layers to the way alchemy, their country, and their world, truly work. As the mysteries deepen, so do the characters and the world. I really don't want to say much more for fear of ruining the many unfolding surprises.