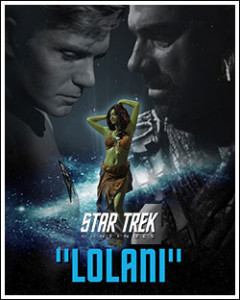 Despite the fact we've just returned from a vacation to the Virgin Islands, here at Jones central my children are most excited by the local convention, EvilleCon, which they've been attending for the last two days, one dressed as Maes Hughes (from Full Metal Alchemist), and the other as Aloise (from Black Butler). Apart from hanging out with friends and others who love the industry, I think they've both been most excited to chat with Vic Mignogna, who they've found warm, personable, and passionate about artistic pursuits.
I happen to be a fan of Mignogna's work myself — he gave voice to Edward Elric, my favorite character in the best anime I've yet watched, Full Metal Alchemist: Brotherhood, acquiring the  American Anime Award for Best Actor in 2007 for his performance. But as if that wasn't enough, he's one of the guiding forces behind Star Trek Continues.
Regular readers of the blog may recall the last time I blogged about Star Trek Continues and how much I enjoyed seeing what felt very much like a lost episode from the original series of my favorite show. (I likewise blogged about it over at Black Gate.) Well, when my son returned from EvilleCon last night he told me he'd seen part of another Star Trek Continues episode, "Lolani," which was released in February. Somehow I had missed the release!