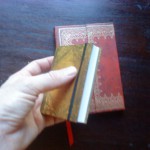 A month or so back I was contacted by a reader and fellow writer who'd heard about my mistakes list that I keep in my writing notebooks. She wanted to know what those mistakes were. Today I thought I'd share them with you.
One thing I've finally figured out at 45 is that I'll keep inventing new mistakes, even though I will slowly (too slowly, it seems) get wiser. I believe I've already mentioned that I always carry around a mini-pen and a small writing notebook, one that can fit in my back pocket, or even a smaller model (a Paperblanks Micro) that I can slip into a front pocket. You can find a link to my discussion of that very subject by clicking here, along with some photos of my favorite notebooks and size comparisons.
While on that recent vacation I mentioned yesterday, I found it handy to carry around the Micro notebook featured right up there. As my daughter rode and re-rode the Tower of Terror (once was enough for me) I sat on an uncomfortable stone bench and plugged away on an outline and had almost as much fun as she was having plunging up and down. It would have been just as much fun, if not for the bench. I love to write.